This is a great opportunity for an enthusiastic, diligent and design savvy Part 2 architectural assistant to become an intrinsic part of our friendly, collaborative, and high performing London studio. This will be a part-time role at 4 days/week with established flexible working arrangements.
What we are looking for:
You should be interested in a variety of project types, willing to share ideas and be unafraid to ask questions. Based on your comfort level, we will empower you with project responsibilities and expect you to communicate directly with clients.
The right candidate would be willing to share their points-of-view to further our agenda of designing responsible and beautiful buildings. And beyond influencing the direction of the studio, they would help the practice grow.
We expect you to be a clear communicator, both visually and verbally in order to demonstrate the studio's commitment both to good design as well as sustainability.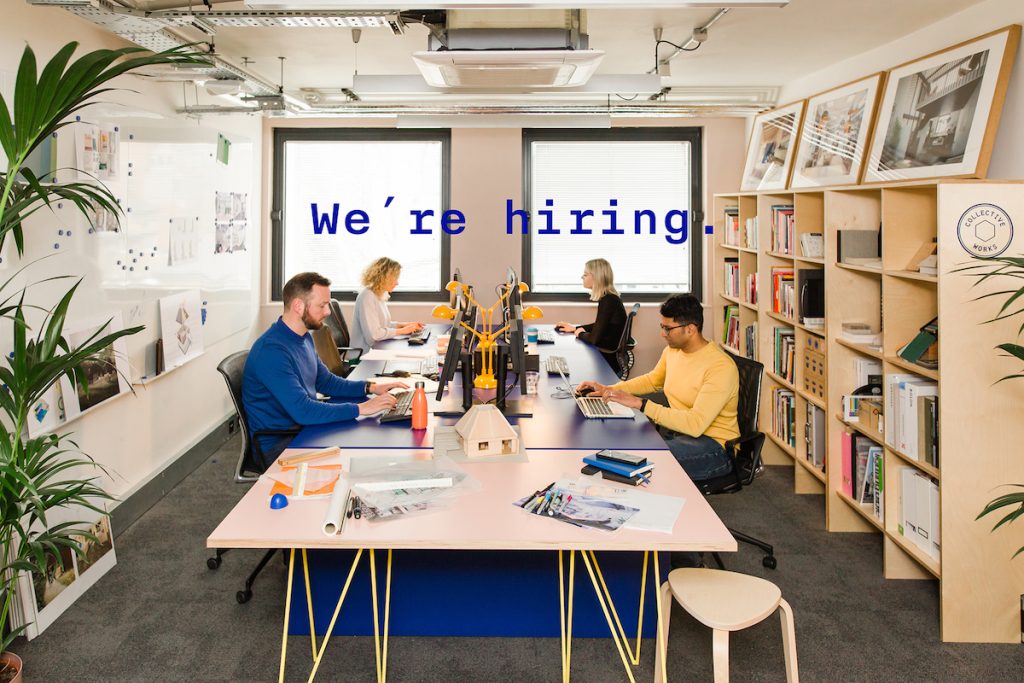 Key Criteria
Fluency in English both in written and verbal communication
Ability to visualise projects including renderings
Confident early-stage designer
Work experience across RIBA Stages 1- 4
CAD proficiency in 3D modelling (we use ArchiCAD though not a prerequisite)
Adobe Photoshop, InDesign, Illustrator
Passion for sustainable design
Eligible to work in the UK
Who we are:
Collective Works is a 10-year old studio. It was featured in the Architecture Foundation's New Architect's 4, Wallpaper's* Rising Stars and the Sunday Times. The three partners include female and global majority leadership and the studio continually works to ensure representation both within our team as well as in the AEC industry.
We have a vision to grow into a larger studio that nevertheless maintains a friendly, team-based culture. Collaboration and flexible working are encouraged with the team supported whether at our Chancery Lane office or whilst working remotely. We are committed to responsible and beautiful design, are Architects Declare signatories and will be carbon neutral in 2022 and achieve net zero by 2030.
Our clients are private homeowners, organisations and charities, as well as professional developers. We take on projects from initial design and enjoy seeing them through construction.
To find out more about us visit https://collectiveworks.net/practice/
Our offer
Career development mentoring
Support for candidates wishing to progress towards Part 3 qualifications
Part-time role at 4 days/week
£26-28k, pro-rata
A no-overtime culture
A combination of remote and office work
How to Apply:
Please submit your CV & examples of work to info@collectiveworks.net with the subject line "Part 2 role"
Your cover letter should be contained within the body of your email. It should include your thoughts/reactions to one of our projects.
Your portfolio should have:
Max 8 pages
Include both university and professional work
We are an equal opportunities employer and welcome applications from all backgrounds, including underrepresented groups. Please don't include photos of yourself within your application.
Applications should be received before 19 September. Interviews will be arranged for the week of 03 October.
Let's have a chat about your vision and
how we can help you realise it.
Collective Works are an architecture & design studio. Our network of professionals will create your perfect solution.