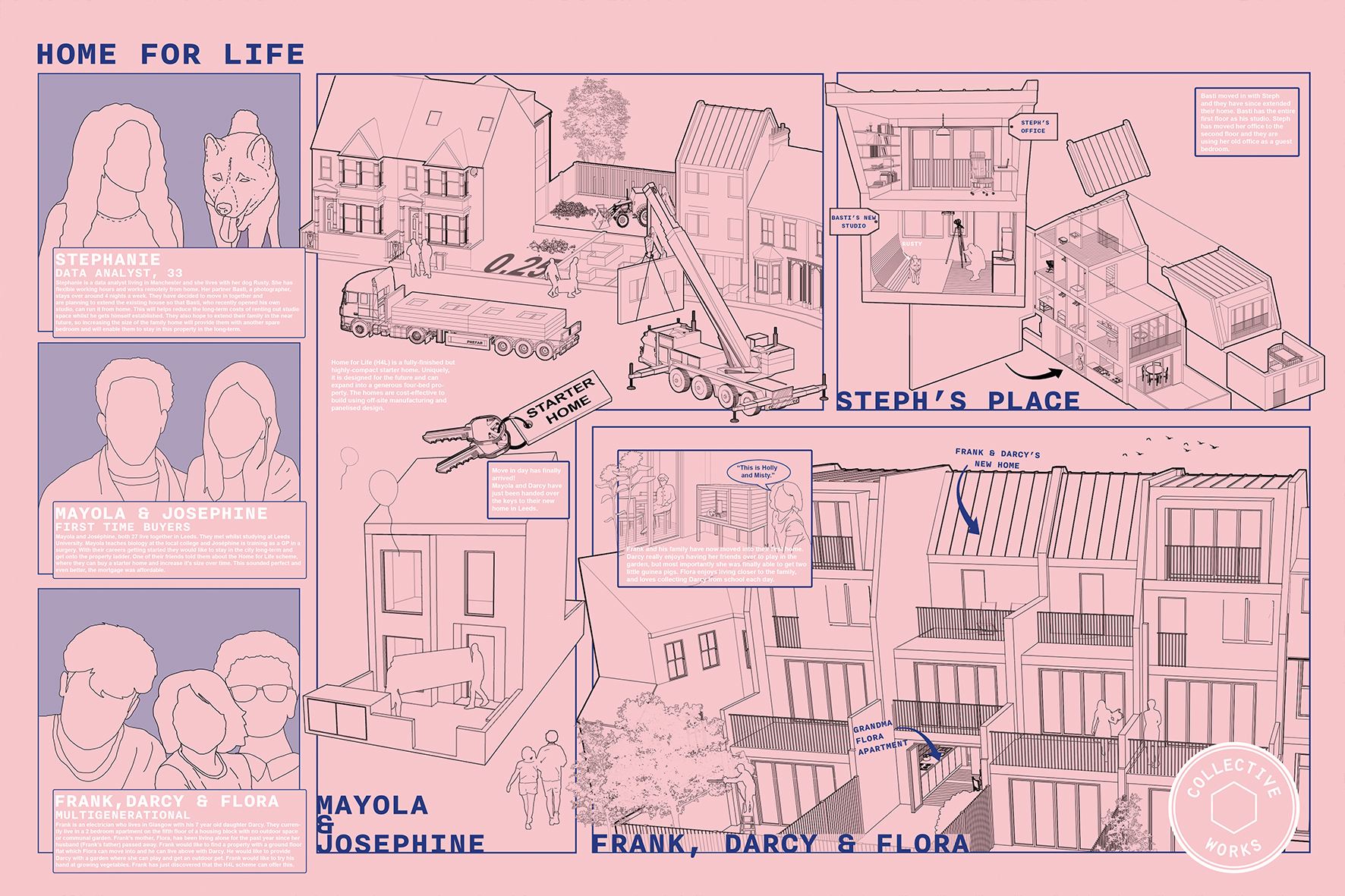 In the UK we are in the midst of a housing shortage and specifically affordable, flexible housing. In urban areas, this is forcing people to move further away in search of a long-term home and it is increasingly difficult for first time buyers trying to get onto the property ladder. To address this, we are working on Home for Life: a fully-finished but highly-compact starter home which can be expanded in the future up to a four-bed home.
Our design is for a home that is, above all else, flexible. Beyond the basics, the Home of 2030 is expected to give the inhabitants agency. Agency to change and adapt their home to their changing lives and needs. People's lives may move in different directions, however where people live shouldn't if their homes are made with flexibility in mind. 
We believe that a prerequisite of a thriving community is its ability to retain its members and allow them to grow roots. This is often impossible where circumstances change and houses don't meet the required flexibility that is demanded of them. Home for Life addresses that problem by being designed to expand and change to allow occupants to stay in one place longer. The building is designed as a terrace which means that it can nestle into the character of established villages and urban neighbourhoods. 
Multigenerational living is becoming commonplace in our contemporary society. Our design considers this demand on homes and allows expansion to create a ground floor bedroom. The needs of a young, growing family are equally important to that of a larger, mature one.
Home for Life meets nationally prescribed space standards from the initial condition through to the future expansions. The design has been carefully crafted to create spaces that are comfortable to live, are filled with natural light and suit 21st century inhabitants. In addition, the aim is to meet targets set within the RIBA 2030 Climate Challenge. We imagine using MMC technology to help reduce embodied carbon, a heavily insulated and airtight envelope will keep operational energy low and harvesting rainwater lessens the demand on the potable water supply.
Let's have a chat about your vision and
how we can help you realise it.
Collective Works are an architecture & design studio. Our network of professionals will create your perfect solution.