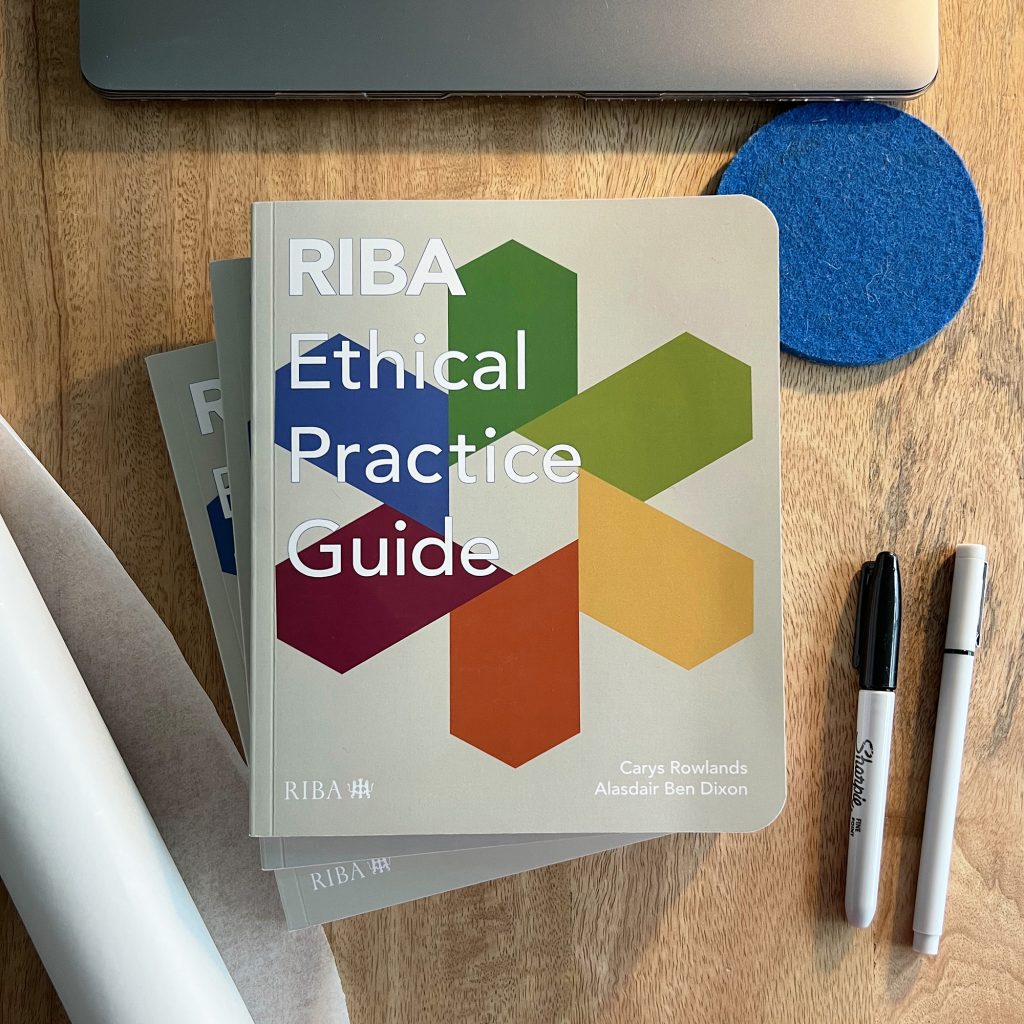 We're happy to share news that the RIBA Ethical Practice Guide, which partner Alasdair Ben Dixon co-authored with Carys Rowlands, is now available from RIBA Books.
Aimed at architects, but relevant to built environment practitioners more generally, each chapter introduces an ethical duty, setting out the relevant legal, regulatory, and professional context before exploring the detailed subject matter and key principles. It includes an ethical dilemma for each duty and views and experiences from across the profession.
This guide is designed to improve the industry's grasp of ethical practice as it relates to the wider world, society, clients, the workplace, the profession, and the individual. These were all topics which were covered by the RIBA Ethics and Sustainable Development Commission which Alasdair took part in from 2018-2019. Following that commission Alasdair and Carys have been delivering CPDs to architects and students across the country.
The six topics which the guide explores now form the Ethical Practice Knowledge schedule, which is set to become a mandatory competence for all chartered architects.
The content itself builds upon many other publications and frameworks as well as our experiences as a practice where the ethics of both our work and our workplace are regularly deliberated.
We recognise that ethical practice is a continually evolving topic and will always remain subjective. For that reason the guide doesn't seek out right or wrong answers – rather we've tried to gather the best guidance out there to help professionals identify, understand, and advocate their own core values.
We'd like to extend our thanks to the contributors below, who offer their own perspective throughout the guide, and to the many reviewers who helped shape the curriculum and the book itself.
Including contributions from: Neal Shasore, Farhana Yamin, Justin Bere, Jan Kattein, Darius Jenner Pullinger, Virginia Newman, Dhruv Sookhoo and Ben Channon.
Purchase now at RIBA Books – https://www.ribabooks.com/RIBA-Ethical-Practice-Guide_9781914124723
In September RIBA are hosting us for their cover to cover lunchtime talk – https://riba-academy.architecture.com/ilp/pages/description.jsf#/users/@self/catalogues/150435/courses/1101378/description
If you'd like to hear more about the book through a workshop/talk or understand how an ethical approach will benefit your project just drop us a message here: info@collectiveworks.net
Let's have a chat about your vision and
how we can help you realise it.
Collective Works are an architecture & design studio. Our network of professionals will create your perfect solution.