This month we've invited Cowoker Joe Scragg to talk us through a of the reasons why he chose to work with us and how he manages his flexible routine.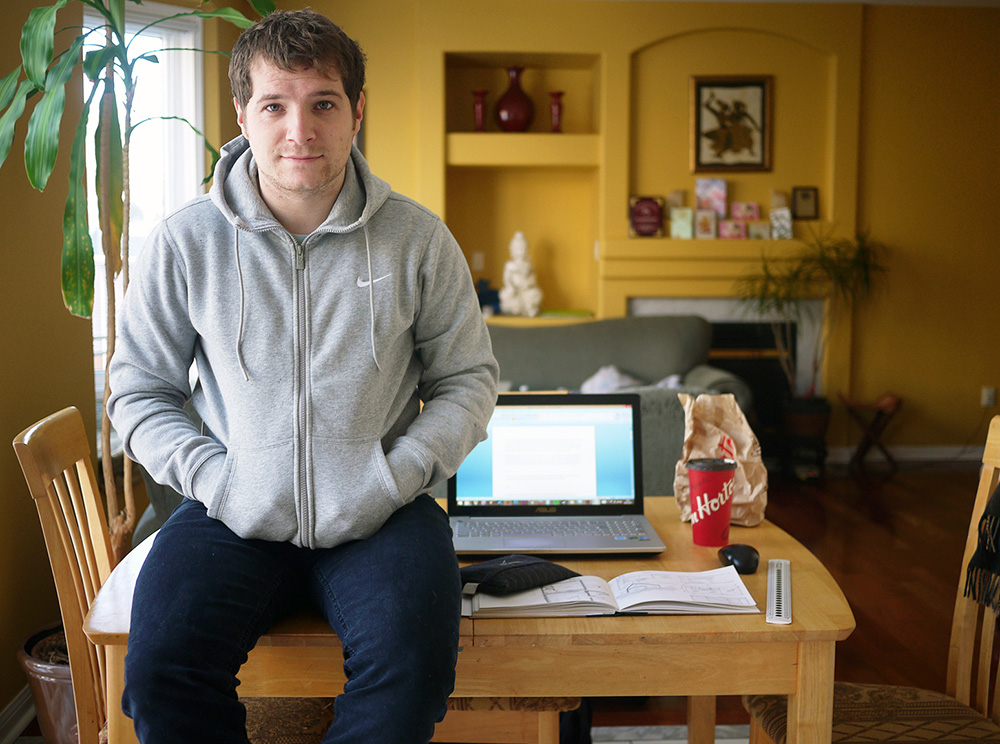 As I sat down to start this with a Tim Horton's coffee for fuel in Toronto, Canada, I was given a timely reminder of why it was that I chose flexible working over full-time employment. From my experience, the gig-economy doesn't nearly deserve the bad press it receives. Though employment law has, at times, been exploited by big business, I think that if the step into self employment and thus the gig economy is made by choice and not desperation then it can be revelatory.
A flexible routine at work for me is crucial. I currently choose when and where to work, and when not to. This has provided the necessary space in my life to accommodate a wealth of opportunities that I would have otherwise not been afforded in full-time employment. My working holiday to Canada exemplifies this nicely and yet only complicates my job in trying to convey a typical working day: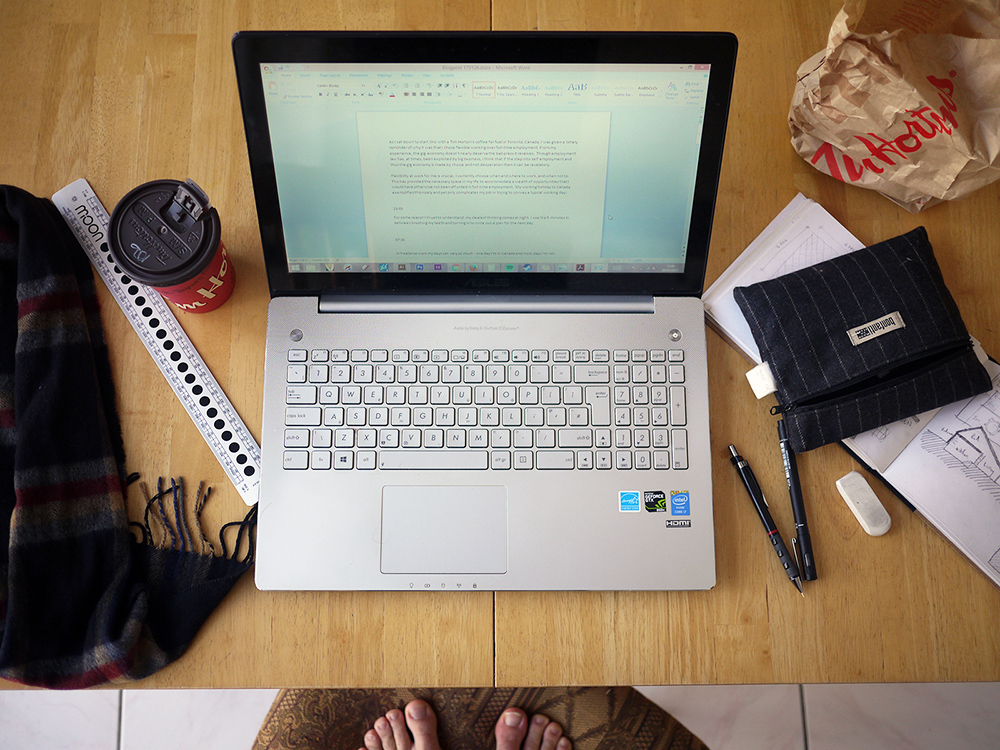 Joe's Daily Routine:
Sunday – 23:05
For some reason I'm yet to understand, my clearest thinking comes at night. I use the 10 minutes in between brushing my teeth and turning in to write out a plan for the next day.
Monday – 07:30

In freelance work my days can vary so much – one day I'm in Canada and most days I'm not. However, I always try to keep my morning routine the same, this provides the necessary structure in order for me to be productive. And so today, like every day, started with a shower, a cup of (English) tea and a bowl of porridge eaten whilst catching up on Trump's latest gaffe.
Monday – 09:00
Emails. I can only start work in earnest once I have made my way through outstanding emails and that my inbox tray is sufficiently organised with messages filed.
Monday – 09:30
Most of my days are divided between working from home and working from a hot desk in the studio. Other than the inevitable needs to occasionally work around others, our use of Teamwork as a practice has meant that our productivity and creativity as a team is indistinguishable whether we're based in the same room or in different continents. Today I'm working from a home in Toronto on a project in Sydney via an office in London.
I always feel most creative in the mornings and so I use this time for tasks that require more of that side of me, leaving the afternoon for more methodical processes.
Monday – 11:00
A short break with a Tim Horton's coffee. Distinctly average, but don't tell the Canadians.
Monday – 13:00
A quick lunch before a walk to hunt out some dessert.
Monday – 14:00
Afternoons vary so much depending on deadlines. Sometimes when I'm finding it hard to focus I'll go for a swim and follow it up by working later into the night. Again, this is exemplary of the flexible routine I enjoy whilst working for Collective Works and its innate ability to maximise productivity during time spent working. 
Monday – 17:15
Most of my days are wrapped up by updating co-workers with what I've been up to on Teamwork. Today I'm ending with a short flight to New York for the weekend. Catch y'all later!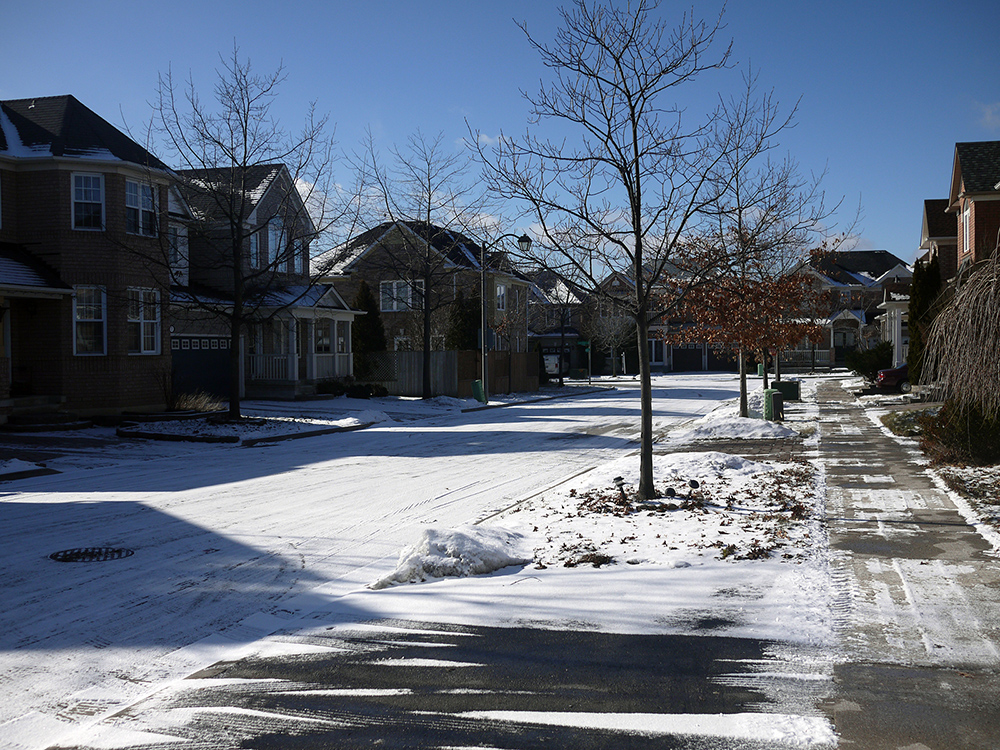 ---

Joe's Top tips for a flexible working life:

1) Shed the guilt
Full time employment breeds a culture of strict routine. Be prepared to break it, it's lethal after all..
2) Find a space that works
Seek out a space that you both enjoy spending time and you find productive.
3) Flex your flexibility
Make the most of your flexibility whether in travel, hobbies or socially.
4) Be organised
With work not based in any one place it demands an extra level of organisation.
5) Tell everyone else!
Let's have a chat about your vision and
how we can help you realise it.
Collective Works are an architecture & design studio. Our network of professionals will create your perfect solution.