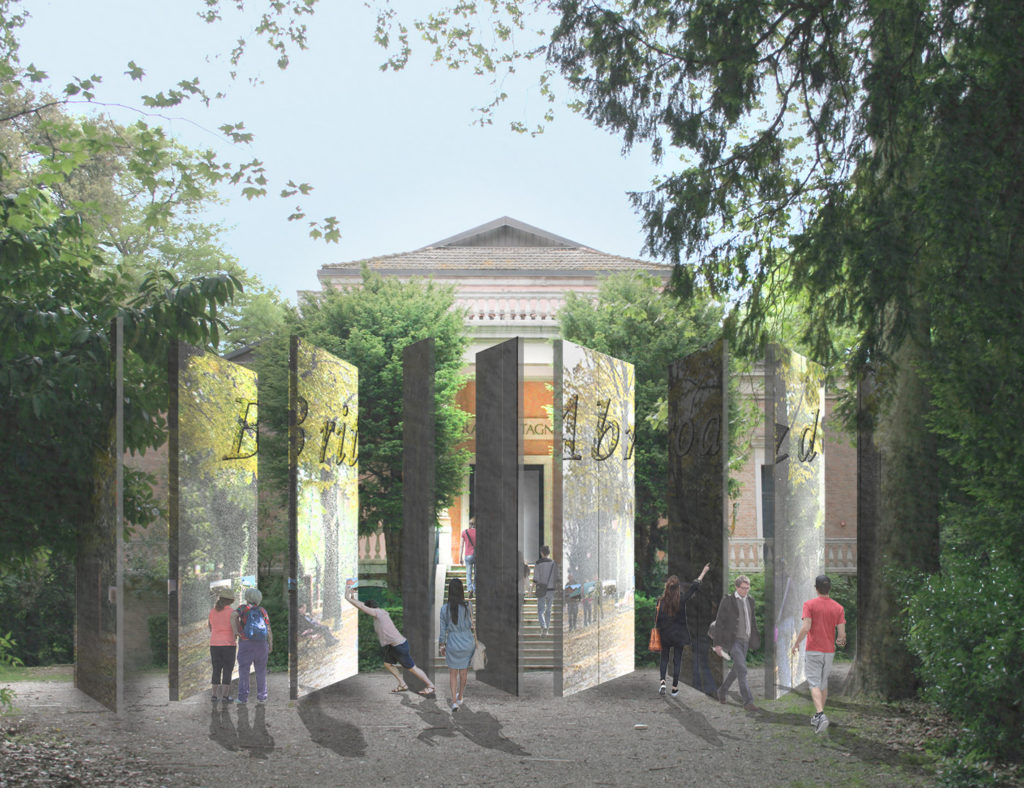 COMPETITION PROPOSAL – Brits Abroad; Beyond our Border.
Architecture has been described as a mirror of it's context by British architects in the past, our proposal for this year's pavilion can explore that relationship further by deconstructing the export of British architecture and inviting our global neighbours to offer their interpretations of 'Britishness' through art and the built environment.
The UK has historically and recently had fraught relationship with borders, both historically in colonial times as well as nowadays with Brexit. The physical changes of the border cause impact on Britains social and economical environment, which has directly influenced how British architecture is exported architecture.
Through a mirrored screen we will create a new border within the Giardini and reflect the surrounding pavilions. As well as exploring the fragility of current geopolitical borders. This permeable line will demarcate the extent of the British exhibition and be constantly disrupted by visitors arriving & leaving the pavilion.
The zone enclosed by the border will be a Freespace, allowing for debate, conversation, exhibition and cultural exchange in which the content providers are the other nations.
The exhibition within the pavilion will deconstruct the export of British architecture. Thematically the exhibition will take a critical view across numerous areas by exploring the contributions which British architecture has made to the world.
Divided into 7 continents across 7 spaces, each room will explore how British architecture has influenced and affected a continent. The diversity of the teams involved in procuring British architecture will also be broken down, demonstrating that the majority of British architecture exported is in fact a diverse, multinational exercise in collaboration, rather than a top down signature export.
We envisage loosely curated discussions on themes as diverse as the British garden; High-tech, the mews; Colen Campbell's Vitruvius Britannicus, students of the Architectural Association; and the London Stock Brick with talks and installations from ethnobotanists, urban theorists, stone masons, and so on.
Collective Works Team:
Joe Scragg  / Holly Barker  / Philip Allin  / Dominique Jenkins / Haruhito Tomi . Jade Yingyu Zheng / Tomas Tvarijonas  / Thomas van Hoffelen / Alasdair Ben Dixon / Khuzema Hussain / Siri Zanelli
Let's have a chat about your vision and
how we can help you realise it.
Collective Works are an architecture & design studio. Our network of professionals will create your perfect solution.