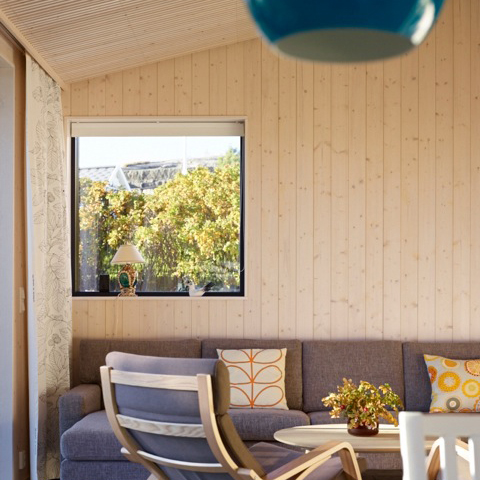 Scandinavian design stays on trend, both in the world of fashion and jewellery, furniture and of course interiors and architecture. Partner Siri Zanelli born and bred in Norway, did her master's degree at the Norwegian University of Science and Technology in the historic town of Trondheim and has designed a number of summer houses, timber extensions as well as interiors in Norway. We asked her how to insert some of that timeless style into your own home. Here are her top tips:

1. Keep it simple.
After twelve years in London, the timeless quality of Scandinavian Design has become very clear to me – and it has little to do with buying a lot of expensive furniture from Skandium. A Scandinavian home is often very simple, practical and comfortable, without much ornament or excessive decoration. When you enter a Scandinavian home you will often be met by exposed materials, a lot of natural timber and hard wearing wipeable surfaces that go well with the climate and people's love of the great outdoors. Practicality and beauty are equally important.
What can you do? Remove all carpets, leave timber exposed, choose functional rather than ornamental fixtures and fittings, and keep your interior quite open – do not clutter your space with furniture.

2. Embrace the light.
Scandinavian summer nights are long, the sun sets around midnight in late June, but in the winter the hours of natural daylight are equally limited so houses maximize the amount of daylight that enters the homes. Scandinavians open up their homes during summer, it is common to not close curtains and leave windows wide open – buildings open up to the light and nature.
What can you do? Insert roof lights, internal openings and internal glazed panel to allow the light to get as deep into your building as possible. If you are inserting new windows, think about how they frame your view of the sky, the landscape or your garden; the view becomes an essential part of your interior.
3. Keep it Comfortable.
This is where "Hygge" comes in (Google it if you are not familiar with how this usual Scandinavian term suddenly became trendy), this is a way of life and not an interior style. Scandinavians entertain a lot at home, invite friends and family over for dinner in the private sphere rather than meeting in public spaces, and in the long winters one end up spending a lot of time inside; a home should be personal, familiar and friendly. Fireplaces, candles, old knitted blankets and rugs are all part of making a home warm and cosy in the dark winter months.
What can you do? If you can't install a log burner, opt for candles and a dimmer switch. Make sure you choose warm light bulbs and the warmest LED strips. The colour temperature of light bulbs is not the same as brightness and is measured in Kelvins (K) and should be stated on the packaging – the lower the K number the 'warmer' the light (2500-2700 is the warmest). Try mixing some old inherited or possibly borrowed pieces of furniture with new to keep it interesting and add character. Consider your choice of material for both furniture and surfaces. Make sure you choose materials that are comfortable for the human body like sheepskin or wool.
4. Don't confuse white with minimalist.
Scandinavian interiors are known to be minimalist and bright, but that does not mean white! Take a look at interiors by Arne Jacobsen, Aino and Alvar Aalto, Sverre Fehn, Wenche Selmer and Josef Frank – you see soft colours, rich timber and terracotta tiles, vivid patterns and colour – all in a functional and beautiful way. The simple beauty of a plain painted surface, the grain of the timber or the warmth of the brick is the paired back beauty.
What can you do? Don't paint everything white! Stay away from excessive bling and choose furniture with clean lines, simple silhouettes and quality materials.
Let's have a chat about your vision and
how we can help you realise it.
Collective Works are an architecture & design studio. Our network of professionals will create your perfect solution.