"How much will my extension cost?" is of course one of the first questions any homeowner embarking on their own grand design, and the slightly unsatisfactory answer is "it depends."
Prices vary across the UK, and they vary based on the quality of both the process and the end product. Web based cost calculators, by the likes of LoveRenovate and Homebuilding can be useful starting points. The challenge with some calculators is that you need to leave your email or sign up to a portal, or simply that they do not reflect the quality of construction that you are after.
It will be cheaper to go directly to a design and build contractor, where a CAD technician is likely to draw up the plans that you suggest. Working with an architect is not for every homeowner, and it is important to understand whether it is right for you. Built quality and risk management are why working with an architect will add cost to, but equally benefit, your project.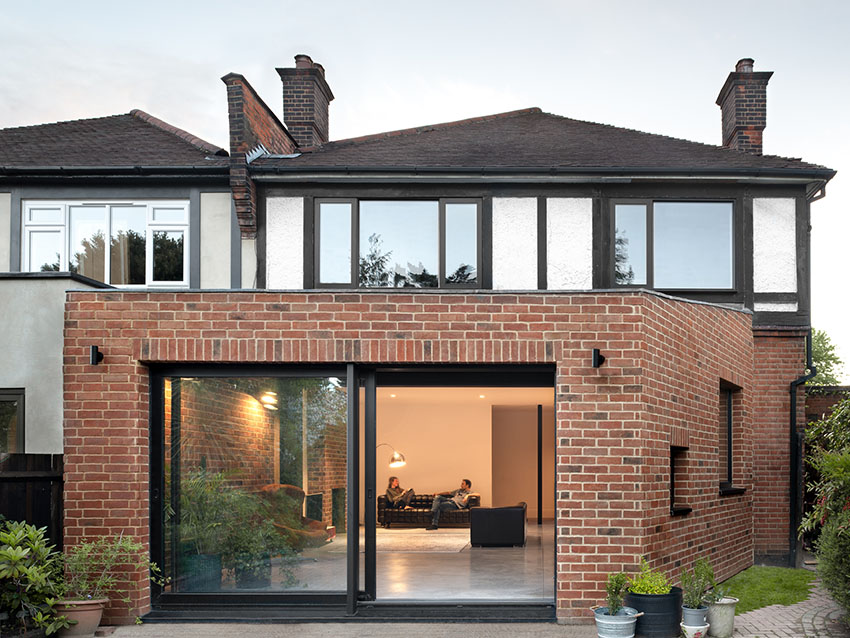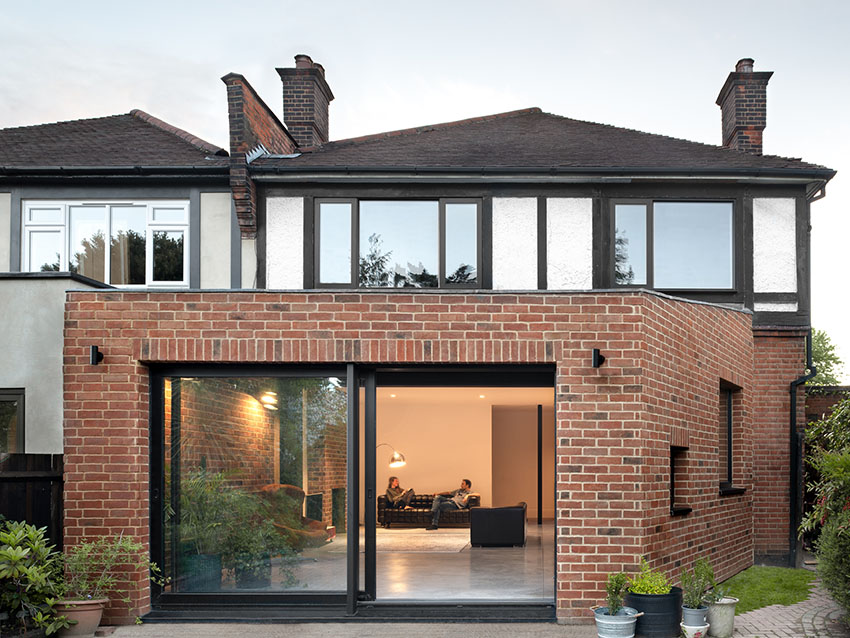 How much will my extension cost, if it is designed by an architect?
As above, the answer to this question is also not straight forward. Items such as large pieces of glazing, expensive finishes and bespoke joinery items will drive the price up. Choosing off the shelf items, limiting complexity and recycling materials and retaining as much of the existing structure as possible, will bring the price down.
We work alongside clients doing side extensions, rear extensions and full wraparound kitchen extensions in London, and the advice below is based on our current projects in London.
Where should I start when planning my London Extension?
Use the estate agents plan, or your own measurements to figure out approximately how large your extension will be, in square metres. The first step in estimating construction cost is by size.
How do I estimate the cost when I don't have a design yet?
Your architect, or design and build contractor, will help you establish the design, based on your personal preferences, site constraints and planning or permitted development restrictions. However a good starting point is to do a quick estimation of the size of either an infill side extension for a London terrace, or a rear extension of between three and six metres. Take measurements from your estate agents plan, or simply step outside with a measuring tape.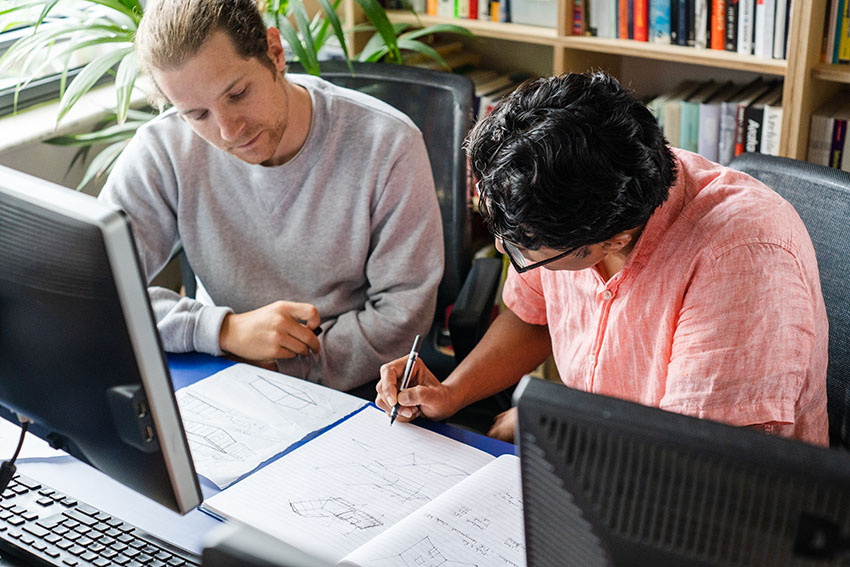 Does the size of my extension affect the cost?
In London the base build cost for a ground floor rear extension is likely to be around £3000/m². That means that a typical 15m² rear extension is likely to have a base build cost £45.000.
Smaller extensions tend to be more costly than larger extensions, simply because there is an economy of scale.
How much does it cost to create that family room that opens to the garden?
A ground floor extension is often a part of creating a new layout on the ground floor. This room becomes the attractive family room that opens to the garden. When you plan the cost of your extension you should include the square metres of the other rooms on the ground floor that will be part of the refurbishment.
We recommend setting aside £2000/m² for basic renovations of existing homes.
If your existing rear rooms that you want to improve are about 20m², set aside another £40.000 for this.
What are typical mistakes when planning the budget for an extension?
The starting point is the square metre cost for extensions and renovations, but you need to make sure your budget includes for vat, professional services, a contingency, and any expensive fixtures and fittings if you would like a high quality end product.
Things to remember when you are planning your budget:
Builders, consultants such as architects, engineers and building control surveyors, as well as suppliers that sell fixtures and fittings, tend to give you costs pre vat. You need to add 20% vat to everything.
A new kitchen can vary from £15.000 for an IKEA kitchen that you intend to put in yourself, to £50.000 and far beyond. A good way of getting a great look for a reasonable price would be using standard carcasses and asking your architect to recommend a trusted joiner to build a kitchen that fits you.
The kitchen is often the hub of the house, and will take on its own budget if it is part of your project. Visit showrooms, talk to suppliers, and try to find a kitchen budget that suits your overall budget.
If you add a new WC on the ground floor, this is likely to cost £5.000. Kitchens and bathrooms are the most expensive rooms due to the plumbing and electrics, so set aside specific budgets for these rooms.
To continue the example from above:
15m² rear extension £45.000
20m² refurbishment of £40.000
Kitchen £25.000
WC £5.000
= £115.000
Why do I need a contingency?
The recommended 10% contingency is not for a nicer kitchen or more bespoke joinery, but for anything unforeseen that comes up on site.
A construction project is very different from buying something off the shelf, and no matter how competent and experienced your team is, there will be surprises.
Your drain pipes may be blocked, or the existing floor joists are too slim, or the roof needs redoing.
Aim for a 10% contingency when you are planning your budget.
With a £115.000 construction budget, you should add 10% contingency = £126.500
What is the difference between the construction budget and the project budget?
Another way of asking that question is "What type of help will I need with my extension?"
A good contractor is essential to the success of your extension, and a standard project also needs primary consultants: an architect, a structural engineer, and a building control surveyor.
Set aside 15% of your construction budget for these consultants' fees, you can read more about typical fees for an architect here.
Depending on the complexity of your project, you may also need a party wall surveyor, a planning consultant, a tree surveyor, or a drainage survey – this is all down to the individual project and context.
We have finally arrived at what your extension is likely to cost, and presuming the project is quite straightforward, the typical breakdown of a ground floor extension including internal renovations of the ground floor:
Construction Budget: £126,500
Primary Consultants, 15% £18,957
VAT, 20% £29,095
Total Project Budget: £174,552
It is important to recognise the difference between construction and project budget when planning your budget, to make sure you have planned the whole process carefully.
If you are interested in finding out more about how to plan your budget, or whether extension your home is the right thing to do within your budget, drop us a line here; https://collectiveworks.net/contact-us/
Let's have a chat about your vision and
how we can help you realise it.
Collective Works are an architecture & design studio. Our network of professionals will create your perfect solution.