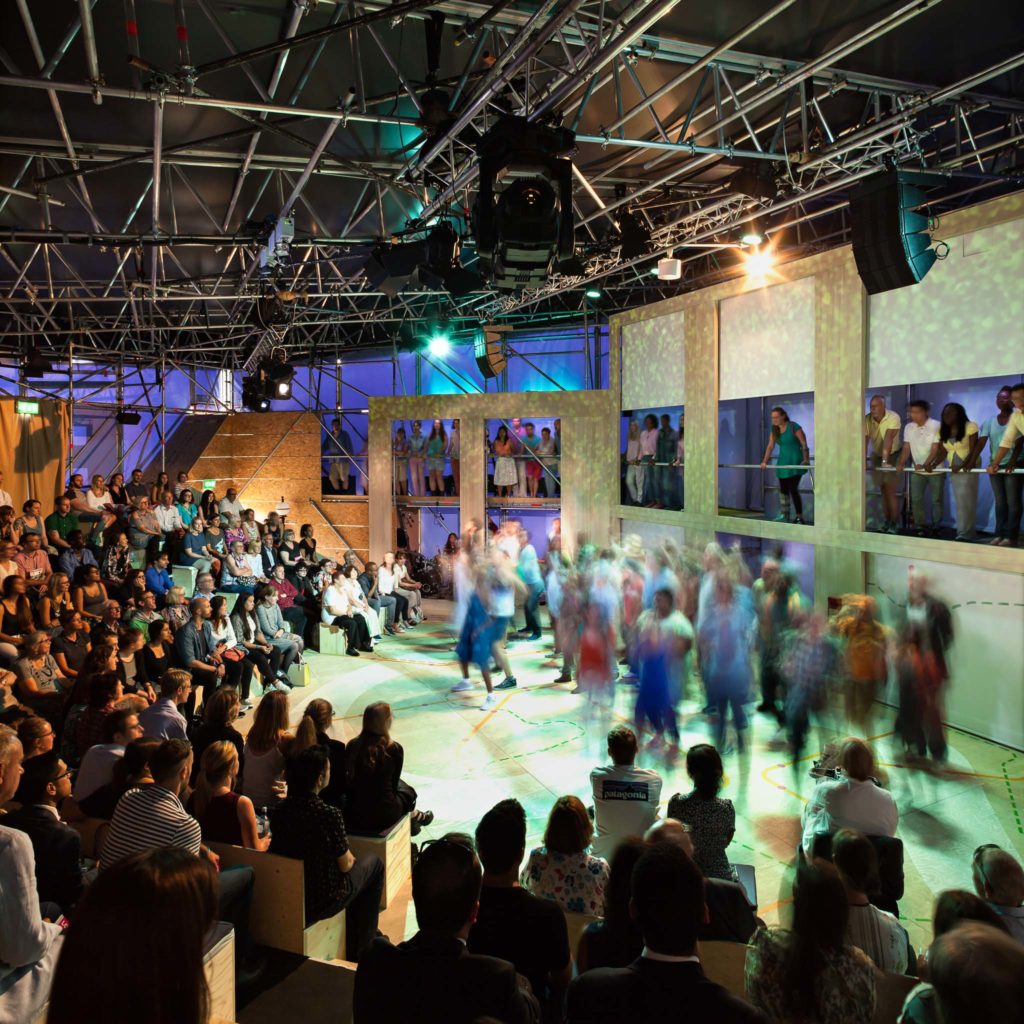 In collaboration with the Old Vic Community Company, we created a unique 200 seat temporary theatre on Waterloo's Millennium Green for the show Rise.
Rise, written by Deidre Kinahan, was a response to real Londoners' hopes and fears about the environment. It involved 200 actors who would constantly move through the structure, either on foot or on bikes.
This was to be a striking and unique eco-building for a ground-breaking performance.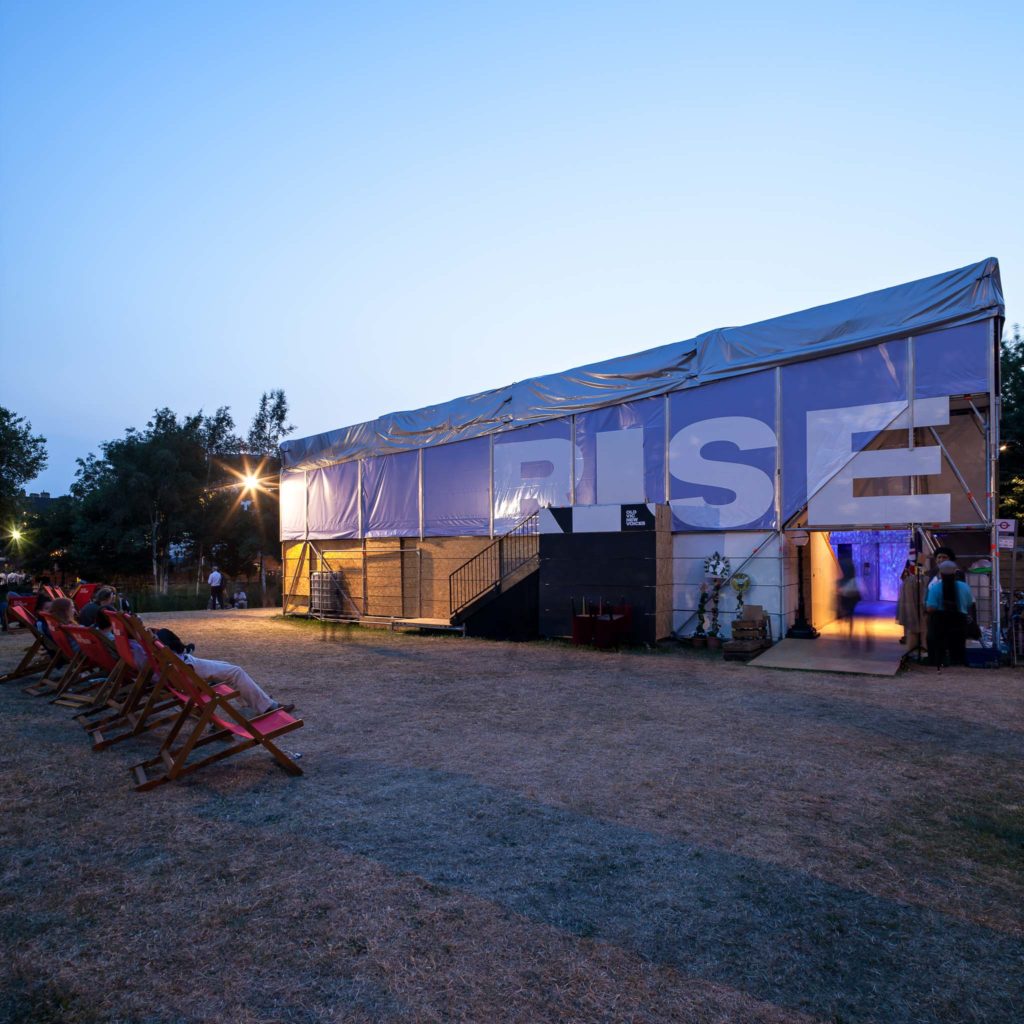 Detailed design to curtain call
We drew upon our experience of stakeholder management and coordinating specialist consultants to make sure all voices were heard. We then worked closely with the show's director, wider theatre company, structural engineers (Corbet & Tasker) and set designer Carla Goodman to pull off the ambitious project.
Working from our detailed concept design, we created a 17m cube made entirely from reusable, reclaimed and rented materials, in line with the show's theme and the temporary nature of the performance. It included a pitch rising above the stage, creating a second level for cast and choir, with six entrances at the ground and first floor levels to allow the public, cast and crew to get in and out as easily as possible.
The main structure of scaffolding was clad in tensioned tarpaulin with foundations formed of water ballast, provided by Intermediate Bulk Containers. We designed and sponsored playful graphics of the show title 'RISE' in 2m high letters around the façade.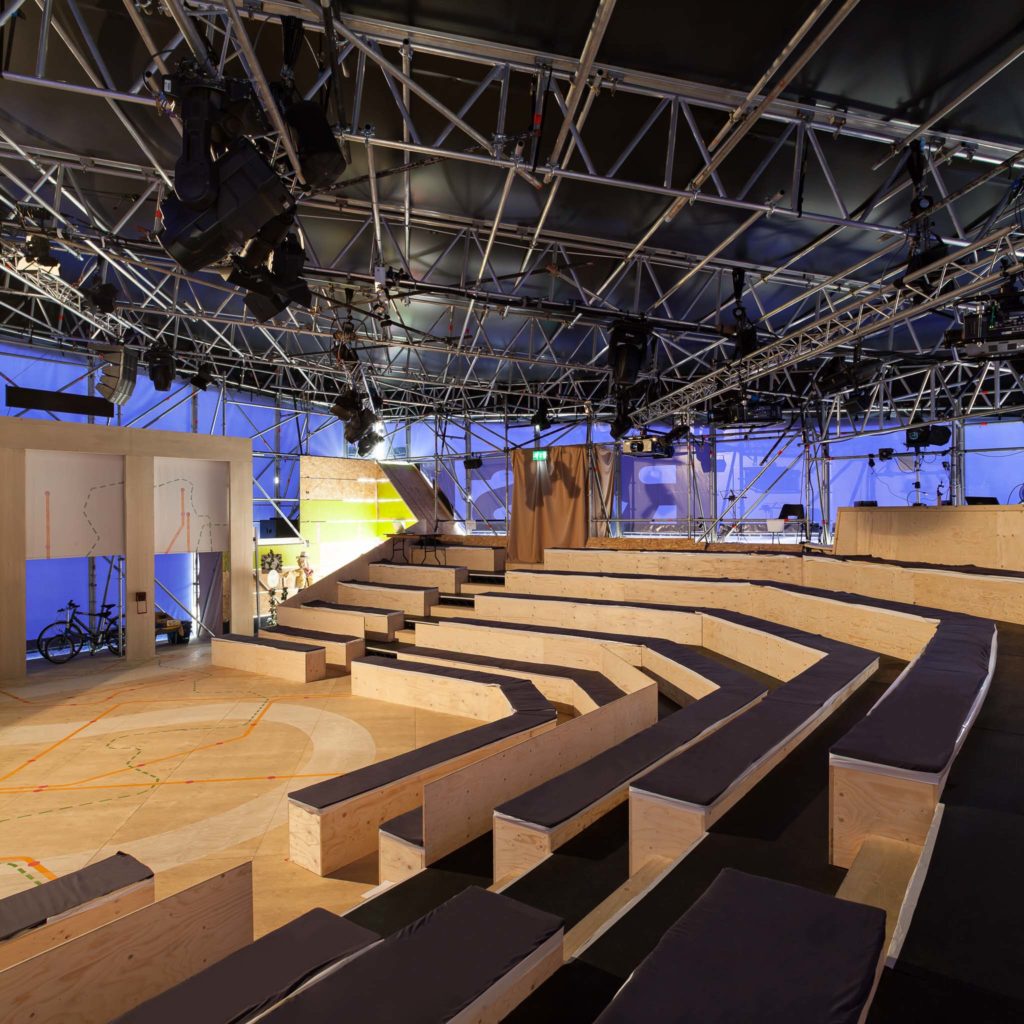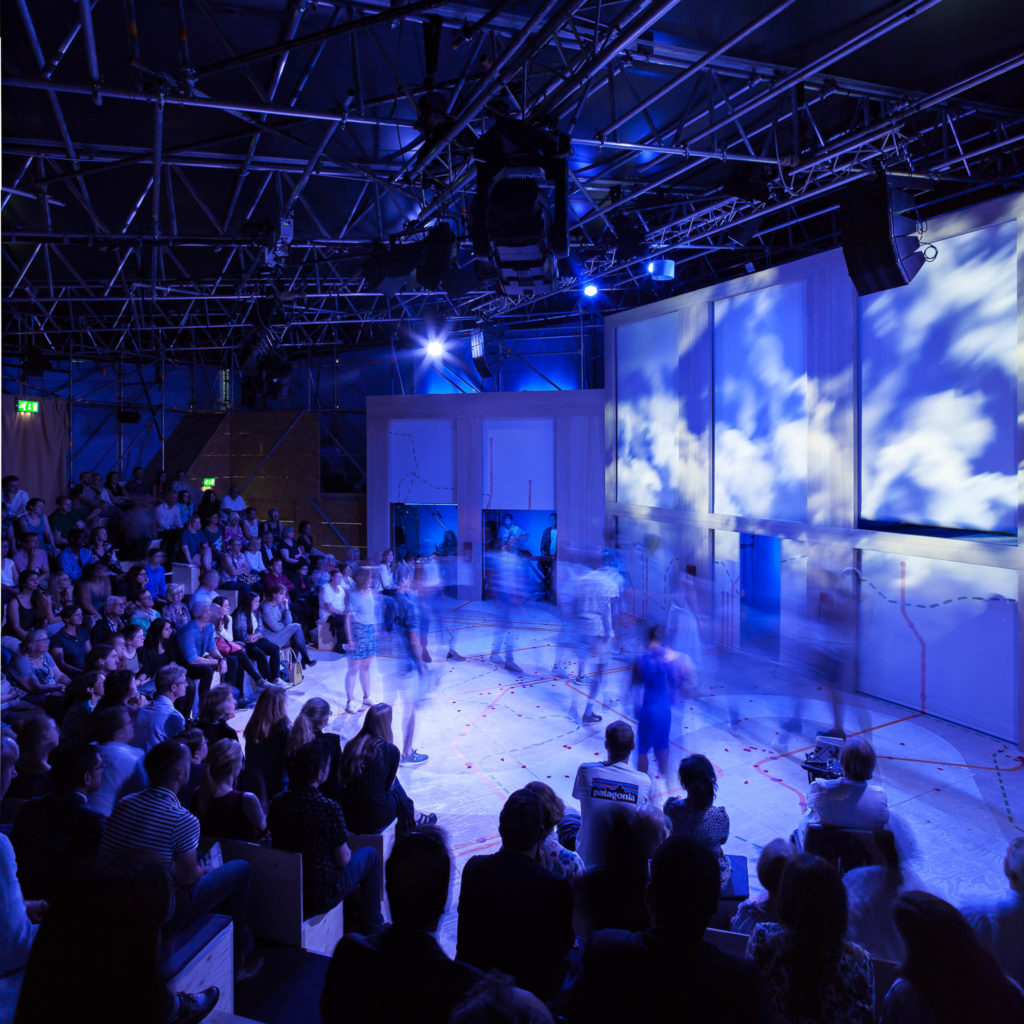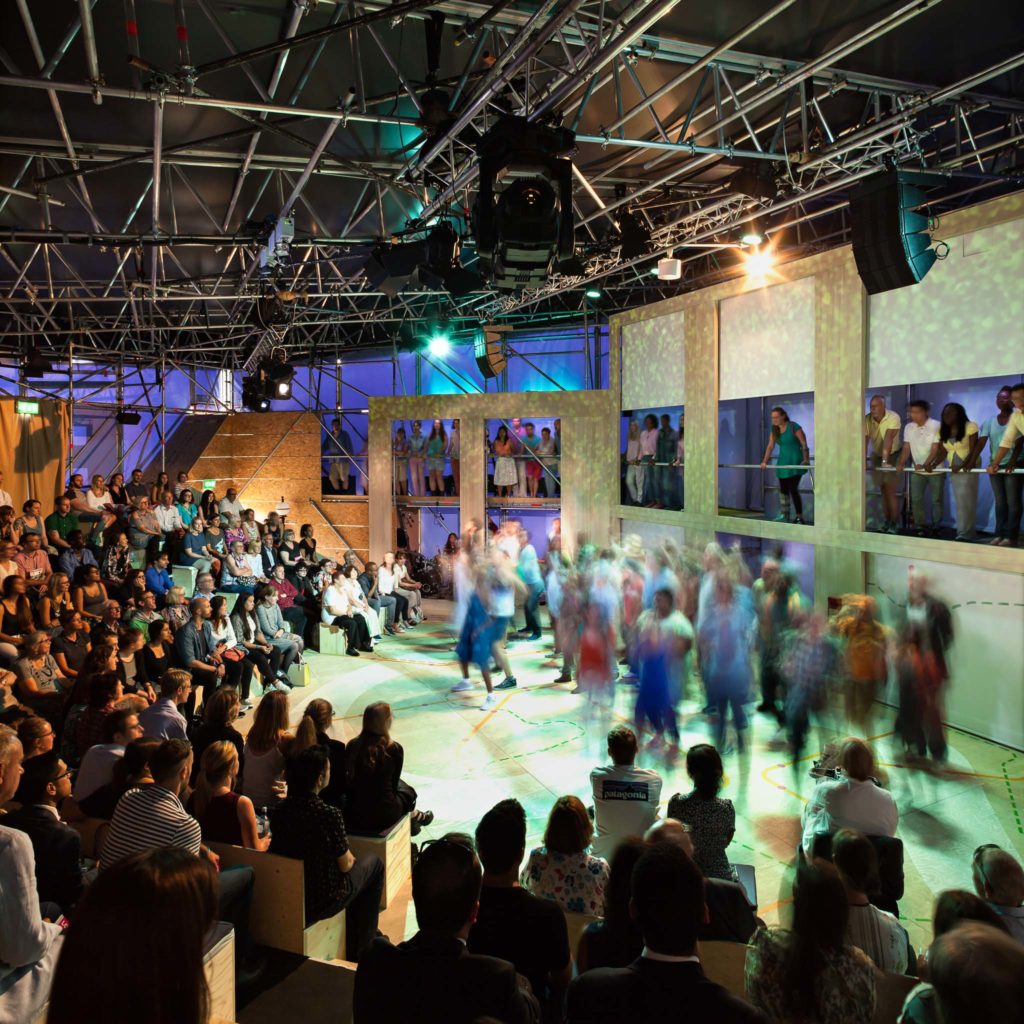 True community building
Performers and members of the Community Company, scaffolders, set builders, architects and production team all worked together to complete the build – making everything from cladding and box office to props and signage. To avoid disrupting the park, the building was completed in just seven days and removed just four days after the final curtain fall.
With free tickets, over 2000 people from all walks of life enjoyed the show and could personally explore the impact of climate change in the city in an awe-inspiring, eco friendly structure.
Following the final performance, we made sure that all the materials were either reused or gifted to other community projects The Community Company itself also spawned a new offshoot, still performing in London to this day.
Developing a sustainable community building? Get in touch.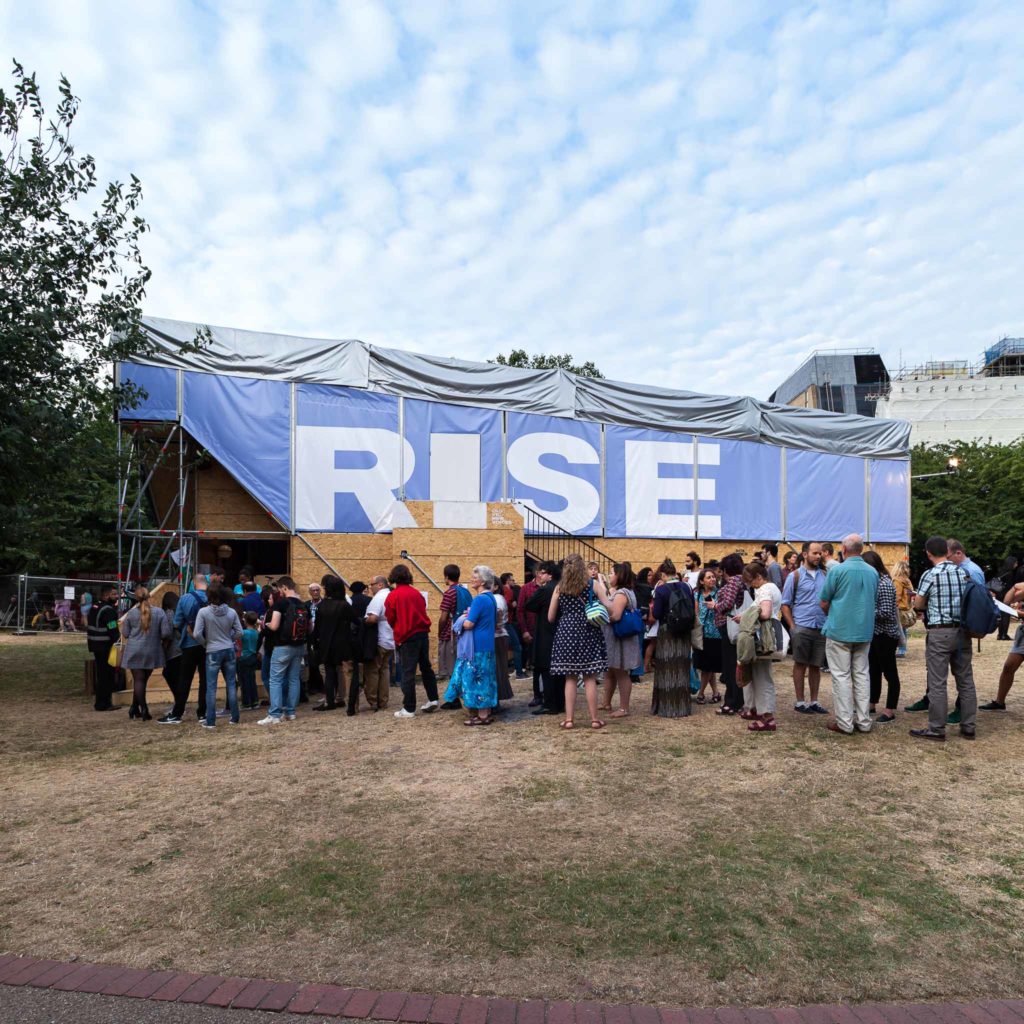 Details
Year: 2017
Location: Southwark
Construction: -
Looking to
Transform your Home?
Unsure where to start? Drop us a line to hear about a range of services tailored to your needs.
Contact us